Notice
In accordance with Utah Code § 63G-2-305(48), this document is held by a Salt Lake County Division of Emergency Management and the information contained within this document is a protected record intended only for the use of those individuals and agencies to which this document is issued. (See Roles & Responsibilities for a list of agencies that participate in the Emergency Operations Plan.) It is being shared pursuant to the requirements and obligations of Utah Code § 63G-2-206. This document may also be exempt from disclosure pursuant to Utah Code § 63G-2-106.
Incident Management Team-Team 1 (SLRIMT)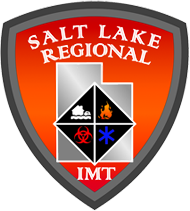 The Salt Lake Regional Incident Management Team is a unique IMT utilizing personnel from throughout the Salt Lake Region to create a robust, well-rounded team prepared to deal with all-hazard events and disasters.