Current Activation Level:  Level III
SPRING RUNOFF
Spring Runoff is the period of time in the spring, typically from April to July, where the creeks swell from snow melt.  Flooding may occur where atmospheric conditions lead to rapid melt and stream channels become overwhelmed.
FLOODS/FLASH FLOODING
Flooding is a temporary overflow of water onto land that is normally dry. Floods are the most common natural disaster in the United States. Failing to evacuate flooded areas or entering flood waters can lead to injury or death.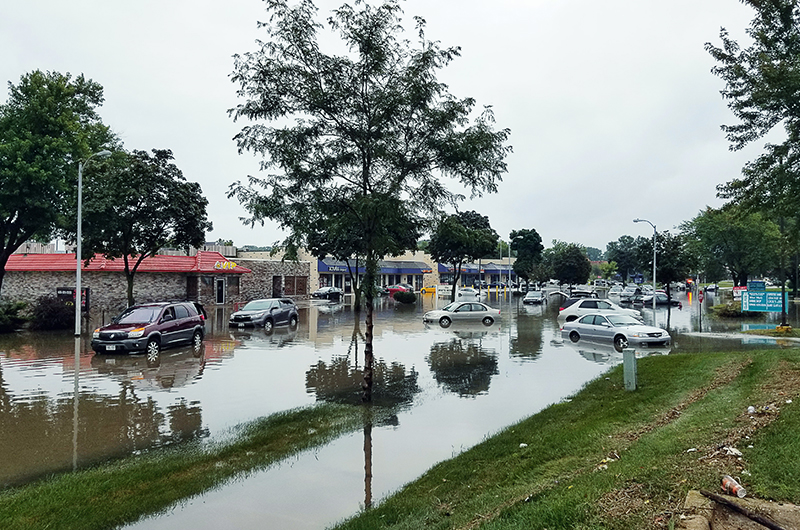 Contact your city officials to see if any local sandbag locations are available, or find a list here.
Salt Lake County Public Works Operations Division
Sandbag Shed (north of main office building)
604 W 6960 S
Hours:
8:00 a.m. – 6:00 p.m.
(385) 468-6101
Fill sandbags a little over ½ full. If you tie the bag, make sure to leave empty space so the sand has room to move and spread out when the bag is laid flat.
Bring your own shovel and work gloves.
Filing is easier with two people.
Sandbags are your property.
You are responsible for proper disposal. Used or old sandbags should be disposed of in dumpsters or in bins provided specifically for cleanup (if provided by your local officials). Do not dump sandbags in rivers, creeks, streams, canals, ditches, roadway gutters, or storm drain inlets.
Sandbag bags cost approximately $0.15 to $0.30 (15 to 30 cents) per bag.
Residents are allotted 25 complimentary sandbags per day.
Burlap and Polypropylene sandbags can last up to 8 months to a year; direct sunlight can deteriorate sandbags quickly (shortens lifespan by months).
Sandbags are your property. You are responsible for proper disposal. Do not dump sandbags in rivers, creeks, streams, canals, ditches, roadway gutters, or storm drain inlets. Do not dump sandbags in curbside residential bins (unless directed otherwise by your city or hauler).
Used or old sandbags can be disposed of at dedicated locations provided specifically for sandbag disposal (to be provided by local officials) or taken to the landfill. Sandbag drop-off events are still being coordinated so check back for more information.
Please contact your city first. If you see areas of overland flooding along rivers, creeks, streams, canals, or areas of channel erosion, call Salt Lake County Flood Control.
If you see flooding within local roadways, intersections, or parking lots, this is the responsibility of your municipality. Residents should engage their city resources for local drainage problems before contacting Salt Lake County Flood Control.
No. Once you get sandbags, they are your property and responsibility to dispose of properly.
No, our staffing resources are spread thin, and we do not have the staffing available to send out to assess or assist on a case-by-case basis. Residents are encouraged to work with their neighbors/neighborhood, family members, church groups, and youth groups like Boy/Girl Scouts if they can assist.
If the debris is in a river, creek, stream, or canal, contact SLCO Flood Control at 385-468-6600 or report the issue with the county. If debris is within local roadways or intersections, contact your local city public works for those local drainage problems.
Possible flooding is more likely if your home, residence, or business is located within a FEMAregulated 100-yr floodplain (1-percent Annual Chance Flood) special flood hazard area (SFHA).  See link to  see if your property falls within a SFHA.  We don't know if spring flooding will occur and if it does, how bad it will be, it's all about how slowly or quickly the snowpack melts.  But, the snowpack will eventually melt and all the creeks, streams, and rivers will rise.
Please visit FEMA's Flood Map Service Center to see if your property falls within a regulated 100-yr floodplain (1-percent Annual Chance Flood) special flood hazard area (SFHA).
Flood damage from external sources of water (water entering from outside the home), is not typically covered by standard homeowner insurance policies. Flooding can occur from storms, over-saturated ground, rising ground water, overflowing or surging of natural water bodies such as rivers, creeks, streams, ponds, lakes or even runoff from your own back yard. You can purchase a separate flood insurance policy through the National Flood Insurance Program.
If residents see small debris (small branches, sticks, and leaves) blocking or clogging roadside storm drain inlets, residents can help by using a rake and removing and disposing of the debris.  This is a quick and easy way to reduce the chances of small nuisance flooding.  County and City resources are spread thin and do not have the staff to respond immediately for every storm drain inlet that is blocked and needs to be cleared.
Register to volunteer on our website under Flooding/Spring Runoff. Volunteers will be organized through the local municipalities.
Additional Volunteer Opportunities:
SPRING RUNOFF
Heavy rain may bring increased flood risk if gutters and inlets are full of snow and debris. Where's what you should do to prepare:
Inspect your rain gutters and downspouts and confirm that they are clear of snow and debris.
Be sure storm drains closest to your home and the area around them are clear of any debris.
Pay attention to your landscaping, making sure water drains away from your home.
Keep children and pets away from potential flood and drainage areas.
Rain on low-elevation valley snow can melt it quickly and increase runoff along streets and roadways.
Shallow flooding of parking lots, roadways, and intersections could be possible.
Watch out for surface runoff and shallow sheet flooding from snow-covered open areas of land or driveways that slope toward a home or residence.
Additionally, learn how to properly place sandbags here – Flood Preparedness Manual
FLOODS MAY:
Result from rain, snow, coastal storms, burn scars from wildfires, storm surges and overflows of dams and other water systems.
Develop slowly or quickly. Flash floods can come with no warning.
Cause outages, disrupt transportation, damage buildings, and create landslides.
IF YOU ARE UNDER A FLOOD WARNING:
Find safe shelter right away.
Do not walk, swim or drive through flood waters. Turn Around, Don't Drown!
Remember, just six inches of moving water can knock you down, and one foot of moving water can sweep your vehicle away.
Stay off bridges over fast-moving water.
Depending on the type of flooding:

Evacuate if told to do so.
Move to higher ground or a higher floor.
Stay where you are.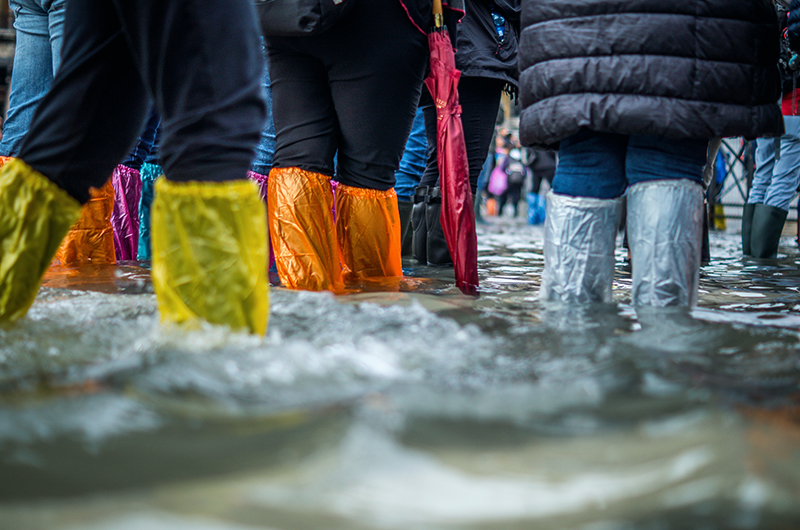 PREPARING FOR A FLOOD
Know Your Risk for Floods
Visit FEMA's Flood Map Service Center to know types of flood risk in your area. The Emergency Alert System (EAS) and National Oceanic and Atmospheric Administration (NOAA) Weather Radio also provide emergency alerts.
Purchase Flood Insurance
Purchase or renew a flood insurance policy. Homeowner's insurance policies do not cover flooding. It typically takes up to 30 days for a policy to go into effect so the time to buy is well before a disaster. Get flood coverage under the National Flood Insurance Program (NFIP).
Preparing for a Flood
Make a plan for your household, including your pets so that you and your family know what to do, where to go, and what you will need to protect yourselves from flooding. Learn and practice evacuation routes, shelter plans, and flash flood response. Gather supplies, including non-perishable foods, cleaning supplies, and water for several days, in case you must leave immediately or if services are cut off in your area.
In Case of Emergency
Keep important documents in a waterproof container. Create password-protected digital copies. Protect your property. Move valuables to higher levels. Declutter drains and gutters. Install check valves. Consider a sump pump with a battery.
STAYING SAFE DURING A FLOOD
Evacuate immediately, if told to evacuate. Never drive around barricades. Local responders use them to safely direct traffic out of flooded areas.
Contact your healthcare provider If you are sick and need medical attention. Wait for further care instructions and shelter in place, if possible. If you are experiencing a medical emergency, call 9-1-1.
Listen to EAS, NOAA Weather Radio or local alerting systems for current emergency information and instructions regarding flooding.
Do not walk, swim, or drive through flood waters. Turn Around. Don't Drown!
Stay off bridges over fast-moving water. Fast-moving water can wash bridges away without warning.
Stay inside your car if it is trapped in rapidly moving water. Get on the roof if water is rising inside the car.
Get to the highest level if trapped in a building. Only get on the roof if necessary and once there signal for help. Do not climb into a closed attic to avoid getting trapped by rising floodwater.
STAYING SAFE AFTER A FLOOD
Pay attention to authorities for information and instructions. Return home only when authorities say it is safe.
Avoid driving except in emergencies.
Wear heavy work gloves, protective clothing, and boots during clean up and use appropriate face coverings or masks if cleaning mold or other debris.
People with asthma and other lung conditions and/or immune suppression should not enter buildings with indoor water leaks or mold growth that can be seen or smelled. Children should not take part in disaster cleanup work.
Be aware that snakes and other animals may be in your house.
Be aware of the risk of electrocution. Do not touch electrical equipment if it is wet or if you are standing in water. Turn off the electricity to prevent electric shock if it is safe to do so.
Avoid wading in floodwater, which can be contaminated and contain dangerous debris. Underground or downed power lines can also electrically charge the water.
Use a generator or other gasoline-powered machinery ONLY outdoors and away from windows.